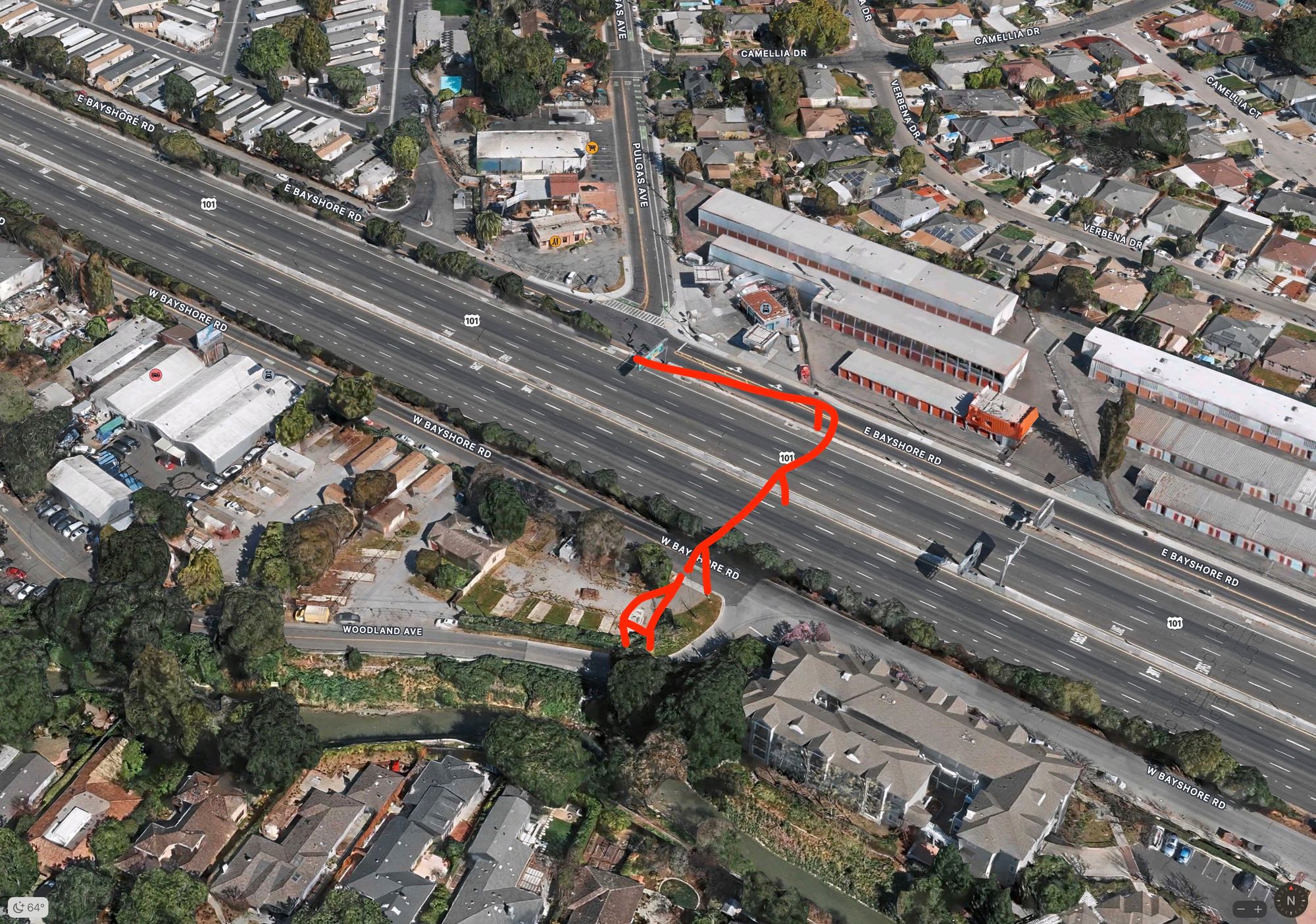 There is a big opportunity for a new pedestrian/bicycle overcrossing connecting Pulgas Ave / East Bayshore Rd with Woodland Ave / West Bayshore Rd.
As I had written in a previous article on the new University Ave pedestrian/bicycle overcrossing, the stretch of Highway 101 +/- 3 miles from East Palo Alto has seen some great new pedestrian/bicycle overcrossings. 3 new bridges have been constructed in the last 6 years, with this 4th one on the way.
These bridges are awesome, and I use all 3 of them. They connect East Palo Alto on both sides of the freeway, and they incentivize people to get out of their cars because crossing the bridge by foot or bicycle is faster than driving all the way around and waiting through traffic lights. The Clarke Ave overcrossing is especially useful to me because it cuts my distance to downtown Palo Alto by 1 mile compared to via car, since a car would need to detour all the way around via University Ave or Embarcadero.
I think our work is not done. There is a big opportunity for a 5th new pedestrian/bicycle overcrossing connecting Pulgas Ave / East Bayshore Rd with Woodland Ave / West Bayshore Rd. This picture is worth a thousand words.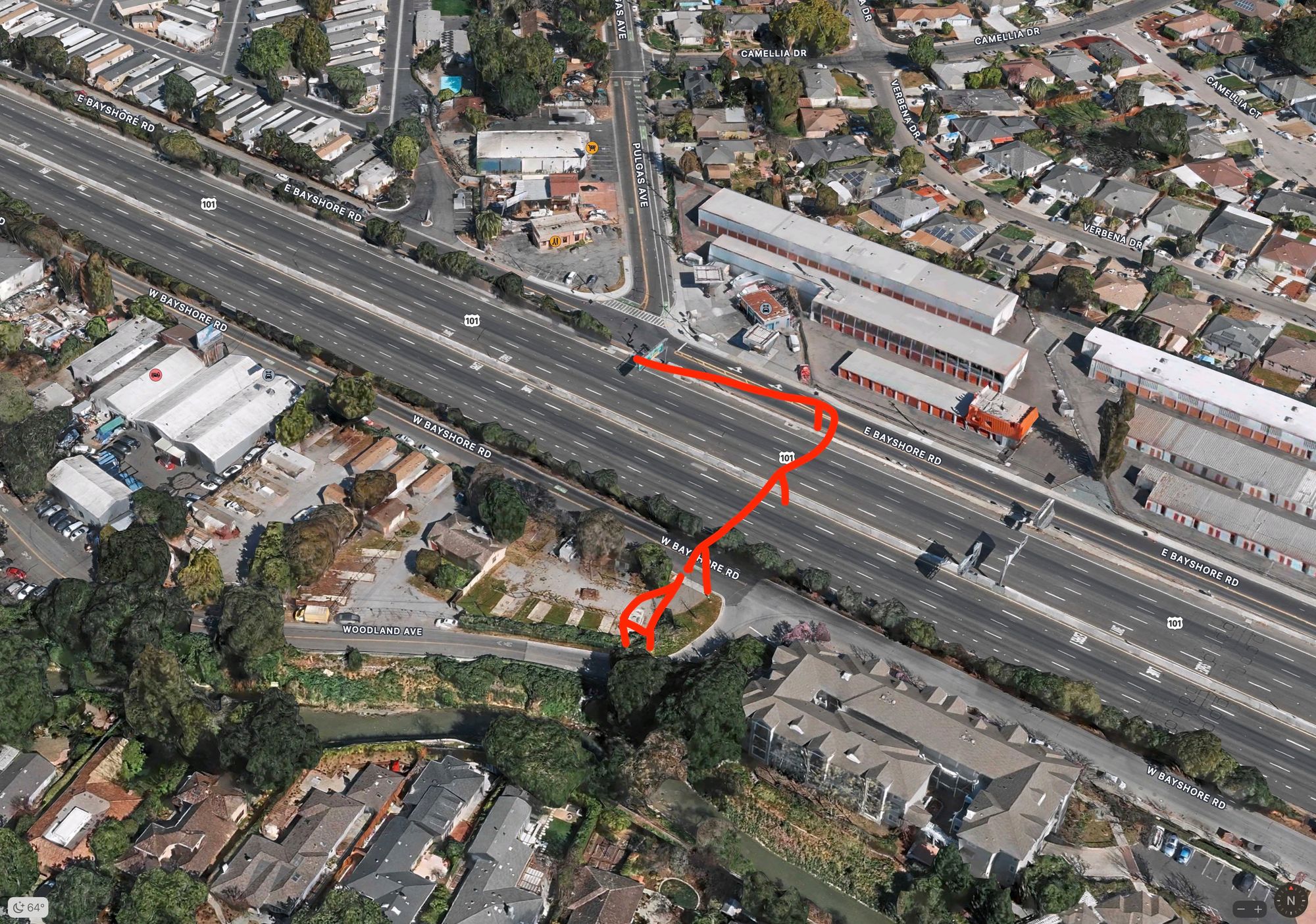 Here is another view, from a birds eye perspective.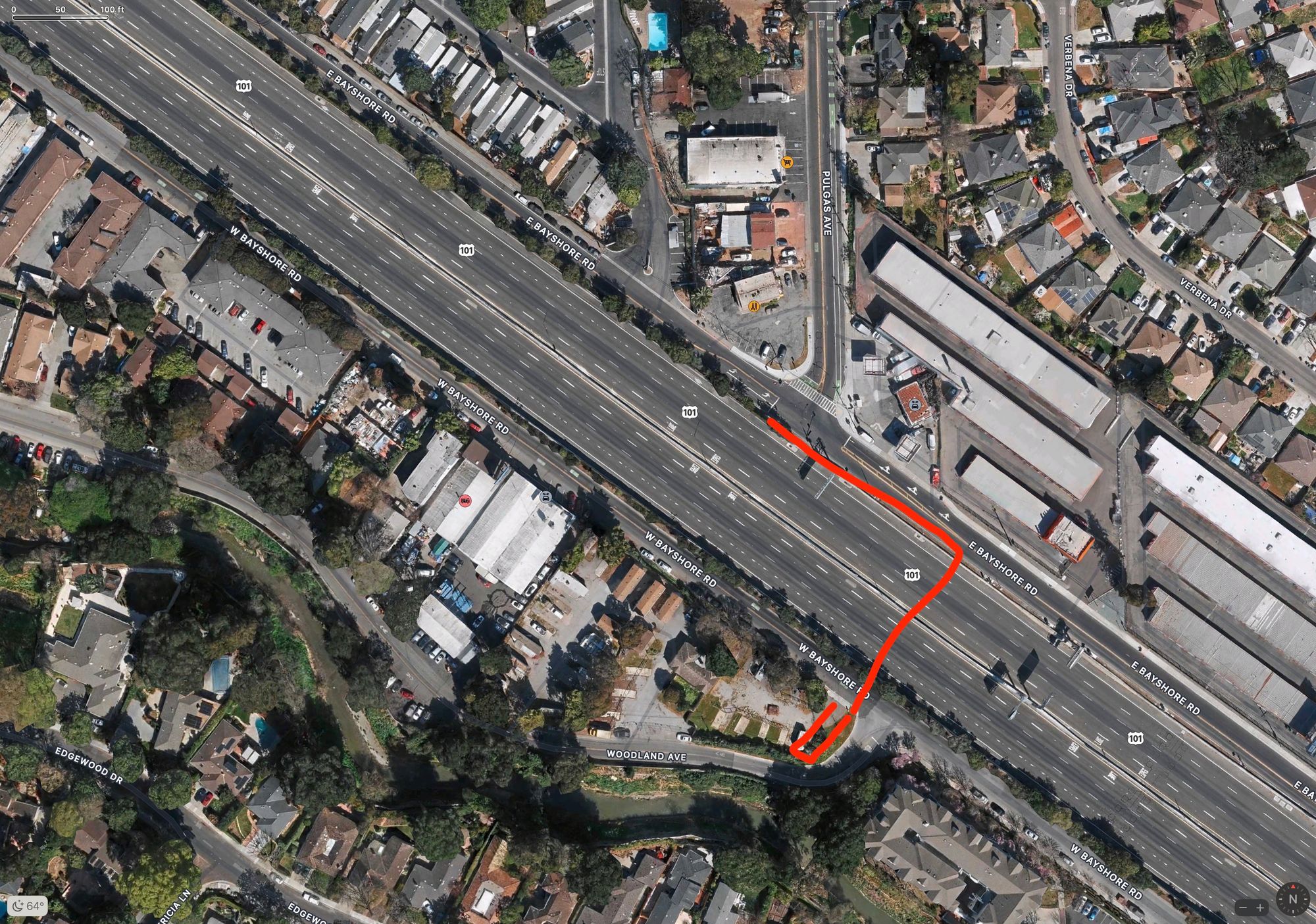 What problems is this bridge solving?
EPA west of Highway 101 is isolated.
It is bounded by Highway 101 on its north and the San Francisquito Creek on its south.
West Bayshore Road is accessible, but it doesn't lead to anything super interesting because the Palo Alto neighborhoods along Edgewood Rd is entirely blocked off from West Bayshore Rd. It is not until you travel 0.48 miles that you reach Edgewood Plaza.
The Newell Rd bridge is nearby but it is still 0.42 miles away and it just leads to Palo Alto residential neighborhoods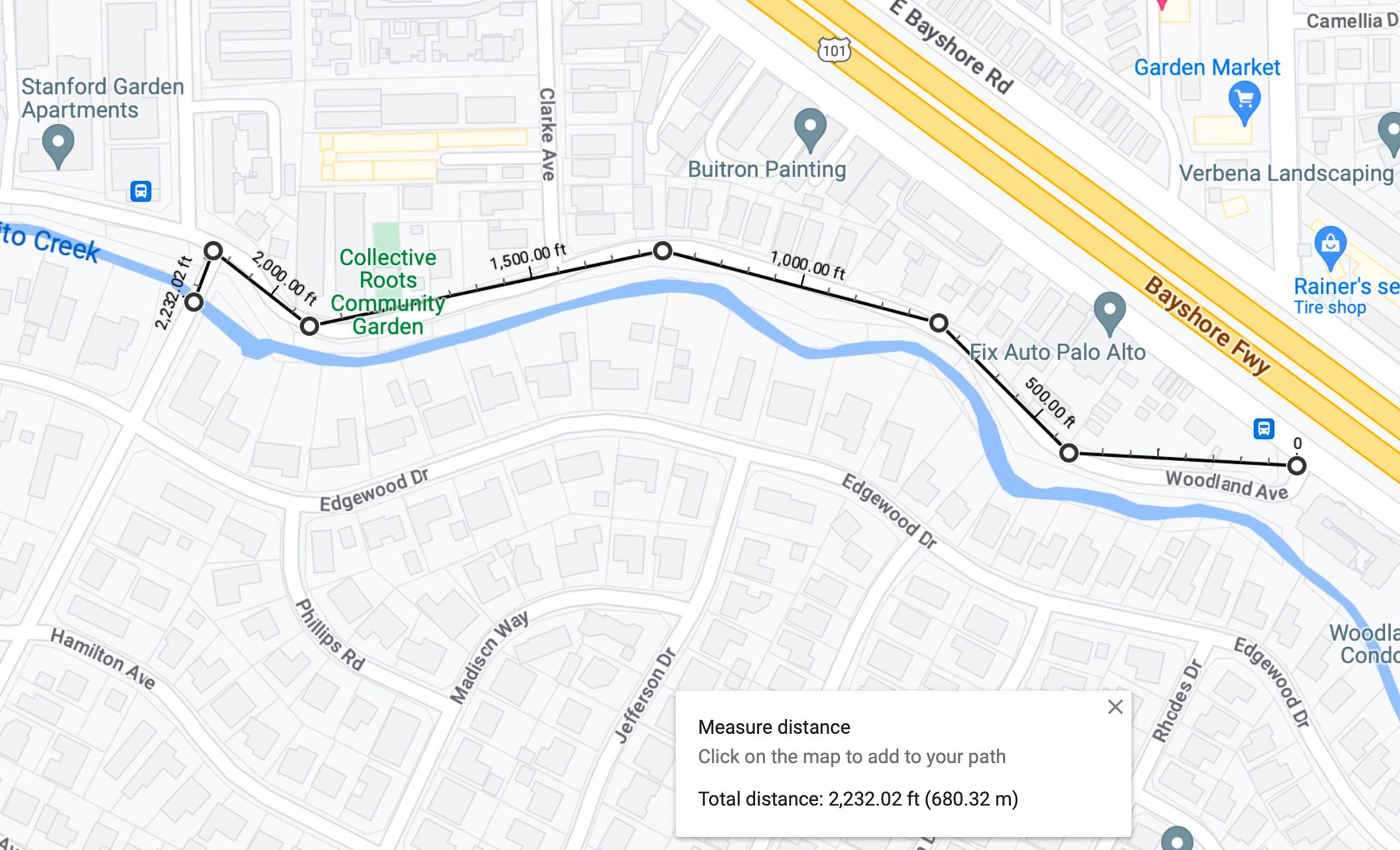 EPA east of Highway 101 is also somewhat isolated
If I am biking from the Gardens and want to cross over the freeway, I would need to ride along 35mph cars on East Bayshore Rd, cross Embarcadero Rd, continue on East Bayshore Rd, and cross the narrow Embarcadero Overcrossing.
Or, I could go 0.43 miles out of my way northwest to Clarke Ave, cross the overcrossing, then come back southeast another 0.43 miles.
It is difficult to justify building up the area at Pulgas Ave & East Bayshore Rd because new developments (housing, mixed use, etc.) would be cut off by Highway 101 on the south and by San Francisquito Creek on the east.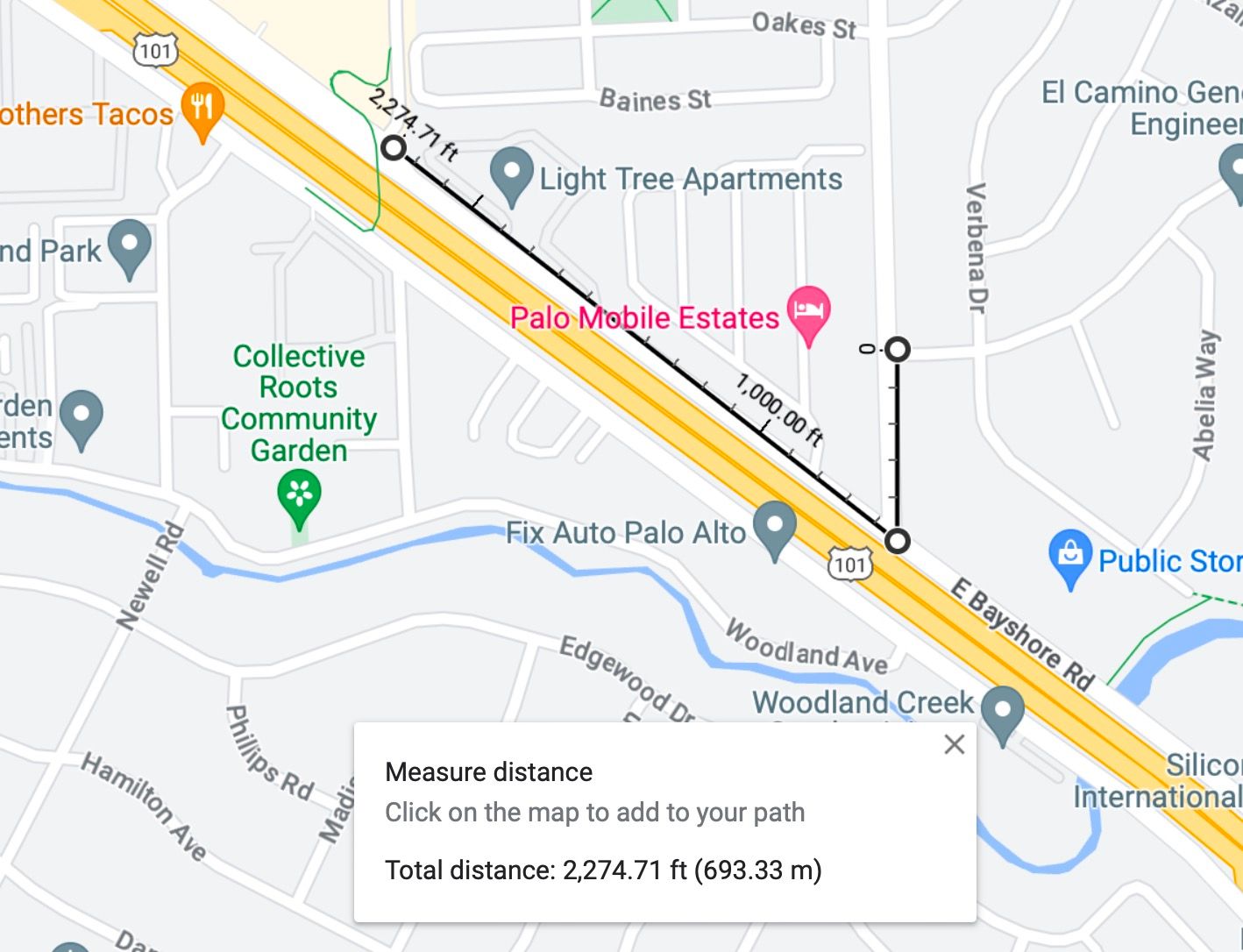 Distance from Points of Interest Leads to Parking Congestion
Imagine that you are a pedestrian living on either the west side of Highway 101 at Woodland Ave or on the east side of Highway 101 at Pulgas Ave. If it's going to take 0.43 miles one-way to get to some store (or 0.86 miles round-trip walk ~ 20 min), are you going to want to walk or get a car? You'd probably want a car. This causes other problems like parking congestion.
By building a bridge which connects these two isolated parts of EPA, we can actually decrease the need for cars by creating a location for the other side to use mutually. This means that residents on the west side can walk across the bridge to access points of interest on the east side, and residents on the east side can cross the bridge to access points of interest on the west side.
Land Acquisition Opportunity
Here is where things get more interesting. There is land on both sides for sale.
West side: 1893 Woodland Ave is for sale; it is vacant lot at Woodland Ave & West Bayshore Rd.
East side: 1905 E Bayshore Rd is for sale; it is a corner service station at Pulgas Ave & East Bayshore Rd. While this land might not be necessary to build the bridge, it serves some opportunities.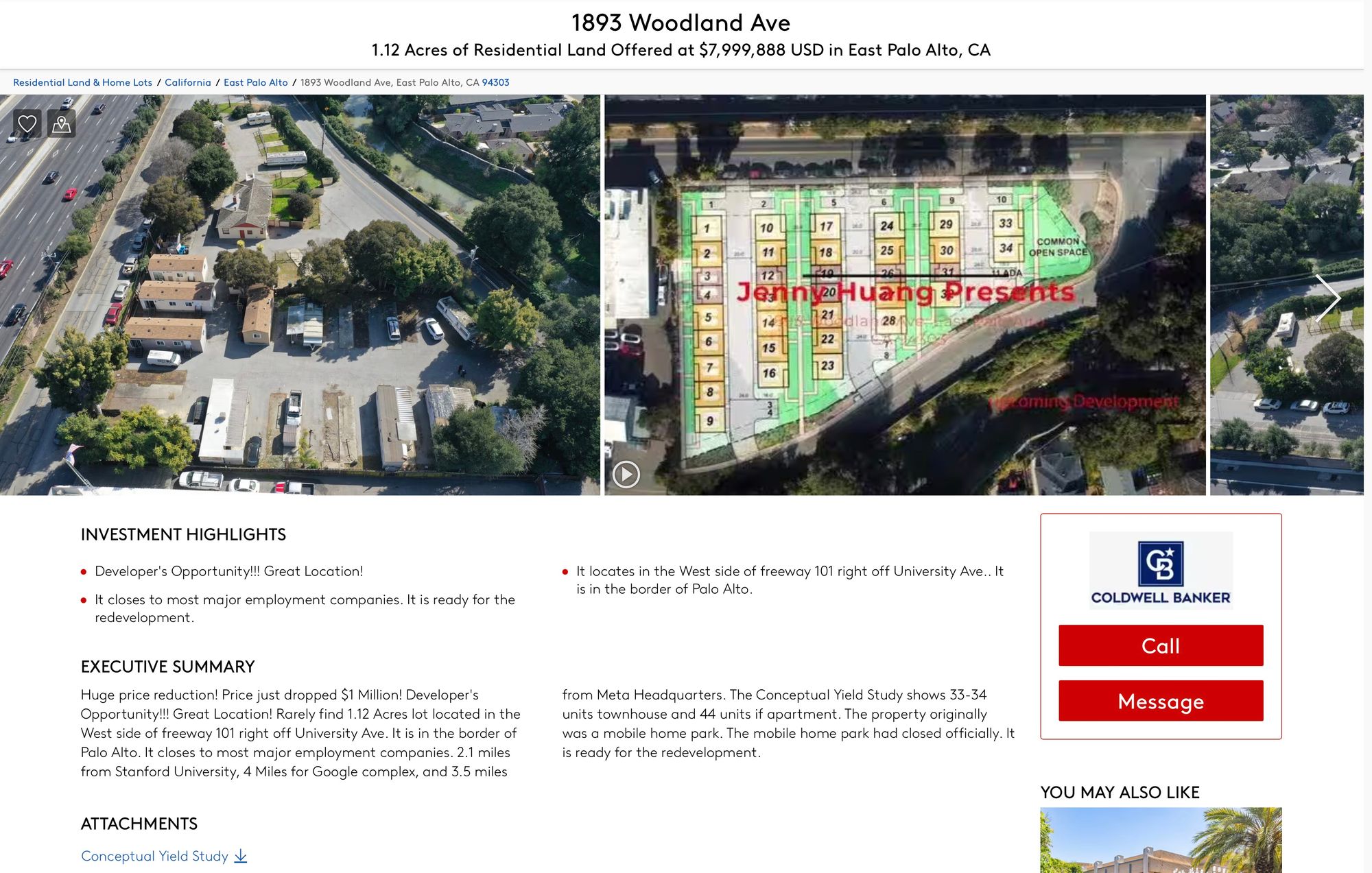 What if the city could acquire 1893 Woodland Ave to build another higher density low-income housing like Light Tree? On the eastern portion of the lot, the City could apply for grants to use that land to build a podium for the west side of the bridge.
Meanwhile, on the east side the city could just use the land between the sound barrier and East Bayshore Rd. Or, the city could acquire 1905 E Bayshore Rd and use it as the podium for the east side of the bridge, along with creating a park there. Eventually, the self-storage behind 1905 E Bayshore Rd could be developed into higher density housing as well with mixed-use retail.
For residents living on either side of the Pulgas-Woodland bridge, the bridge would literally double the amount of  stores they can go to because east side can get to west and west side can get to east.
Conclusion
In this blog post, I have laid out a vision for a new Pulgas-Woodland pedestrian/bicycle overcrossing. While it will help to connect both sides of East Palo Alto further, it will still be disconnected from Palo Alto because the San Francisquito Creek and West Bayshore Rd are entirely closed off from Palo Alto (with the exception of Newell Street Bridge which is 0.42 miles away).
If we create this bridge, we also open an option for creating new public transit options along West Bayshore Rd, since the ridership would not be only EPA residents west of Highway 101, but could more easily include residents coming from the east side who cross the bridge. This bridge could also ease with drop offs for students who could walk across the bridge and get to schools such as the Silicon Valley International School. It could also help with errands such as dropping off a package at the Post Office on East Bayshore Rd.